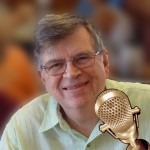 Steve has been doing voiceovers for more than 50  years as a part of his work in broadcast radio and broadcast television, as well as in educational, corporate, and religious settings. Now his versatile voice is available for your independent projects such as commercials, promos, station imaging, narration, audio books, IVR for telephone systems, training, and special events. He can turn projects around quickly from his home studio, and his price quote for your project will be very reasonable. His son is available as a second voice, should your project require.
Stevan Speheger
"The Calm, Confident, Compelling Voice of Reason"
Click below for some video samples.
Go to the Demo Page for some more samples, check out testimonies from satisfied clients, or go to the Contact Steve page to submit a script for a custom demo and price quote.
Steve can also be engaged through Voices.com. Just go to voices.com/people/stevansvo.